Monsignore Ortwin Gebauer M.A.
Monsignore Ortwin Gebauer M.A.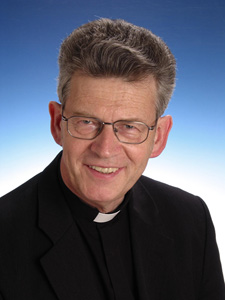 Ortwin Gebauer, born in Cologne on May 7, 1941, read German studies, philosophy and theology at the universities of Bonn and Munich and was awarded the academic degree Magister Artium (M.A.). After his university studies, he taught German, religious instruction and philosophy and was involved in adult education.
On June 22, 1980, he was ordained priest at the High Cathedral of Augsburg. 
The stations of his work as a priest: Schwabmünchen, Schongau, Bad Wörishofen and Lindau. The years 1994 to 2010 saw him work as a dean. 
Starting on September 1, 2012, Ortwin Gebauer will be active as the pastor of a spa.
Decorations:     
In July 1998, he was awarded the title of a Spiritual Councillor.
In December 1998, the City of Bad Wörishofen honoured him with the golden citizen's medal.
In November 2000, he was awarded the Federal Cross of Merit with Riband for his model furtherance of cultural life and specially gifted young artists.
In April 2006, he was given the title "Monsignore" by Pope Benedict XVI.